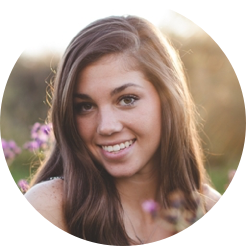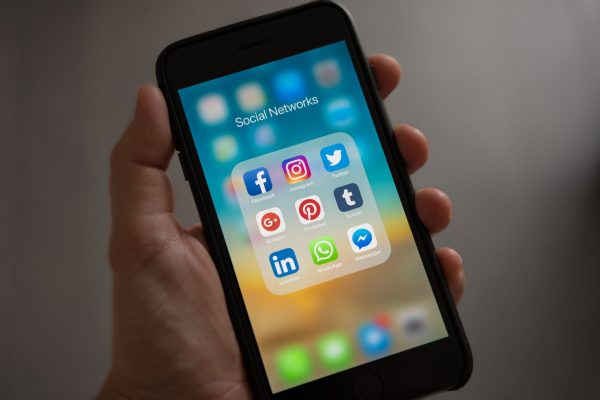 In order to secure the operation of company and increase productivity levels at work, companies usually supervise their employees by the means of video surveillance, computer monitoring and keylogging. Most employee monitoring software can track employee's every click on their office computer. But what if they aren't working onsite or use their mobile phone for work? Now there are some spy apps which can help employer track emplyee remotely and even spy on their social media.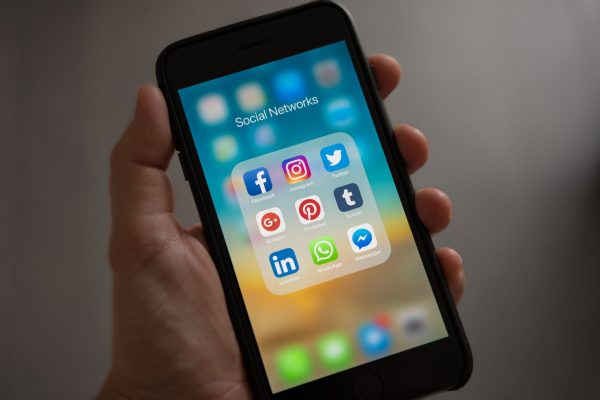 Kepios analysis shows that there are 4.55 billion social media users around the world in October 2021, equating to 57.6 percent of the total global population. Well over 9 in 10 internet users now use social media each month. Social media has opened their pandora's box. Sharing photos, videos and links, posting comments, watching video clips and chatting with someone, there are numerous things that netizens can do as they pleases.
As the convenience and connectivity of social media, the importance of legally monitoring employee's social media cannot be overvalued. Management has the right and responsibility to monitor how employees are using social media. If companies don't pay attention to it, they may end up facing serious problem. In some cases, many employees have griped about their company online, or posted joke videos that put it in a bad light. Eventually they need to make up for the consequence that their careless behavior and speech have brought to. Strict monitoring on social media allows employers to spot what has happened and cope with it as quickly as possible.
Employers are legally responsible for what their employees have done. This is termed vicarious liability. This means an employer could be liable for comments made about an employee or a competitor. Defamation, discrimination and data protection laws all make employers responsible. Even though the employees are not at work,  employer can still be liable.
Even if vicarious liability does not apply, employers often need to know what employees actually do. Employers require disciplinary and investigatory procedures which allow swift action.
How spy apps can help with your business?
There are many spy apps suitable for management, which are easily assessible on the Internet.
Take Chamspy Pro as an example, business professionals can spy employees' activity on different social meida platforms such as Facebook, Instagram and Snapchat. Chamspy Pro developement team has developed different spy functions based on different characteristics of social media applicaitions.
By using Snapchat Spy function,there is no need to worry that you can't view the messages even though they will be deleted promptly after being read on Snapchat. The "burnt after reading" feature of Snapchat is of great help for the users who want to deliver trade secrets and sensitive information. However, thanks to this tool, employer can read all text messages, check the timestamp of each conversation and take screenshots in stealth mode of their employers' account. This marvellous function now is  available for the Android mobile phone user.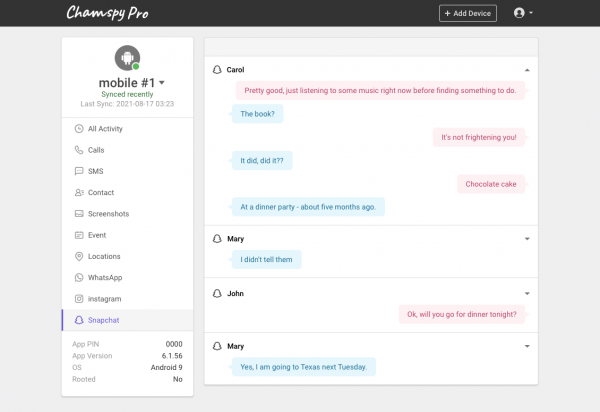 In addition to the Snapchat Spy tool, Facebook Spy tool also is a good helper. It provides employees with an anonymous access to monitor all sent and received messages, access deleted messages, view the date and time of each chat and look through people behind contacts.
Instagram Spy tool allows employees to view the profiles, following and followers of people you are interested in, watch Instagram stories and get insight into Instagram posts and videos.
What else can spy apps do for you?
Chamspy Pro, as a phone tracking app with many useful functions, is suitable for couples, family and business. This app works on Windows PC, Mac OS X and Android. User can download and use it without any difficulty.
Here are many other features of Chamspy Pro:
Remotely view all calls with timestamp.
Listen to phone calls remotely and save them onto your online dashboard.
Track current GPS location of the phone and view its location history.
Read all SMS and MMS conversations.
Monitor all WhatsApp chats.
Wrapping up
This is the complication for corporations, managers, and chiefs of their establishments whether it is legal to keep an eye on their employees' social media or how to do that by licit means. With the help of spy apps like Chamspy Pro, employers will brace for this management problem.