Telegram Spy App - Keep an Eye on Your Loved Ones
Telegram is particularly popular among teenagers for its secret chat features. It uses end-to-end encryption to ensure that a message can only be read by its intended recipient. However, such freedom also causes problems and children could access inappropriate content like porn, violence, gambling. It's important for parents to keep an eye on child's Telegram chat and provide them with a healthy internet environment. If you don't know how to spy on Telegram messages, a Telegram spy app is the answer.
Should you spy on child's Telegram messages?
Social media platform may be a good source of information but also a dump full of inappropriate content. By using a Telegram spy app, you can know if your child is at risk so as to prevent future threats, you could identify if your child is bullied by other teens or even approached by suspicious strangers.
Best Telegram spy app for family and business
If you don't want to jump through hoops to being telegram monitoring, it's better to get a Telegram spy app like Chamspy Pro. This program gives data from every corner of the Telegram and uploads all the info in real-time. It's a gateway into target device, allowing you to view the conversations as if you had the device in front of you. Take a closer look at its features:
Monitor all text messages;
View secret chats to prevent unwanted activities;
Supervise Telegram contacts;
Capture the conversations with screenrecorder.
Chamspy Pro shows the Telegram activity in the form of screenshot or text within seconds. You can review all the sent and received messages, and see detailed information like when the conversation was took place. You will find out who they're talking to, what they are saying, and if they are doing something that could be incredibly compromising. Parents can make sure your child is not chatting with strangers or people you don't approve of.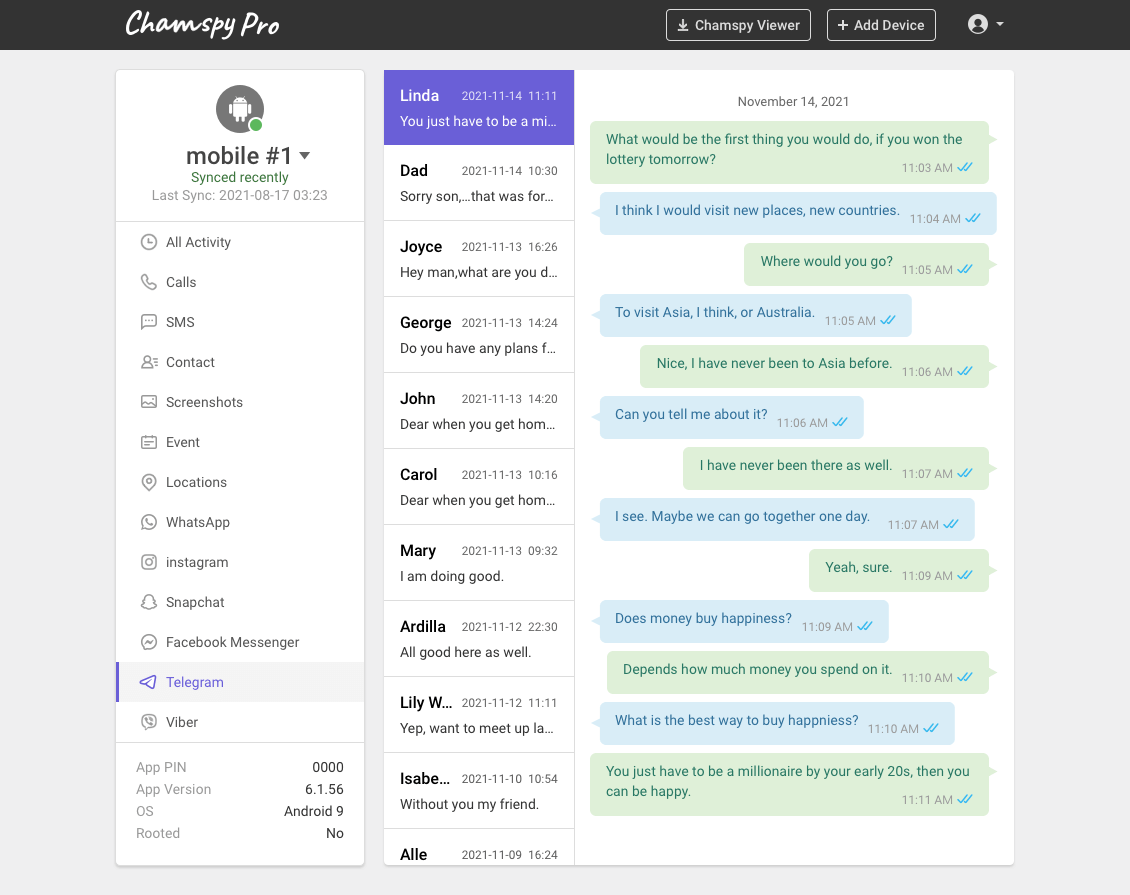 It goes beyond just Telegram spy, it is the entire solution for a parental control app. With Chamspy Pro, you'll be able to record phone calls, track your child's location, check contacts, view calendar entries and monitor social media apps like Facebook, WhatsApp, Snapchat and much more. It meets parents' requirements in a perfect way and avoids parent-child conflict effectively.
Can I access to deleted Telegram chats?
It's not a big deal at all. If you use an advanced Telegram spy app like Chamspy Pro, you'll be able to view all the conversations that took place on Telegram, including deleted chats.
Do I have to be one of my child's contact to view Telegram messages?
No, you even don't have to create a Telegram account to use Telegram tracker. All you need is a username and password for your Telegram spy app. By logging in, you will have a bird's eye view of their Telegram chats.
What if my child uses Telegram along with other messaging apps?
Some monitoring software are designed to let you see Telegram secret conversation and nothing else. However, Chamspy Pro covers a host of other messaging apps such as Facebook Messenger, WhatsApp, Snapchat and Instagram.