KakaoTalk Spy - Monitor Kakao messages remotely
Launched in 2010, KakaoTalk is an mobile messaging app that allows you to send messages, make phone calls and offer a number of other unique features. It is widely popular among teenagers due to its convenience and the various features it offers. However, like most messenger apps, KakaoTalk can be used as a hunting ground by cybercriminals. Hidden spy apps for Android devices are effective tools in tracking Kakao messages and against online threats.
Why you need to monitor KakaoTalk on Android?
A phone spy app can give you a complete picture of what your teenagers or workers spend their time doing online. For parents, you can view their text messages on KakaoTalk and see if they are texting with the wrong people. You also can ensure they don't get exposed to inappropriate content and don't send or receive malicious messages.
If you're using KakaoTalk to communicate within your workplace, it's better to use an employee tracking tool. With the help of such apps, you can keep an eye all exchanged messages and files. It ensures company-issues phones and work hours are utilized properly.
Best KakaoTalk spy app that gives you peace of mind
Android spy app such as Chamspy Pro comes in handy when you need to monitor the phone activities of your loved ones and keep them safe from potential threats. It offers you the ability to spy on KakaoTalk on your target Android devices, as well as many other IM and social media platforms. You can access the monitoring reports via a user-friendly and web-based control panel. It uploads the data in real-time:
Monitor sent and received Kakao messages;
Check date and timestamp of each chat;
View contact details;
Capture screenshots of Android device.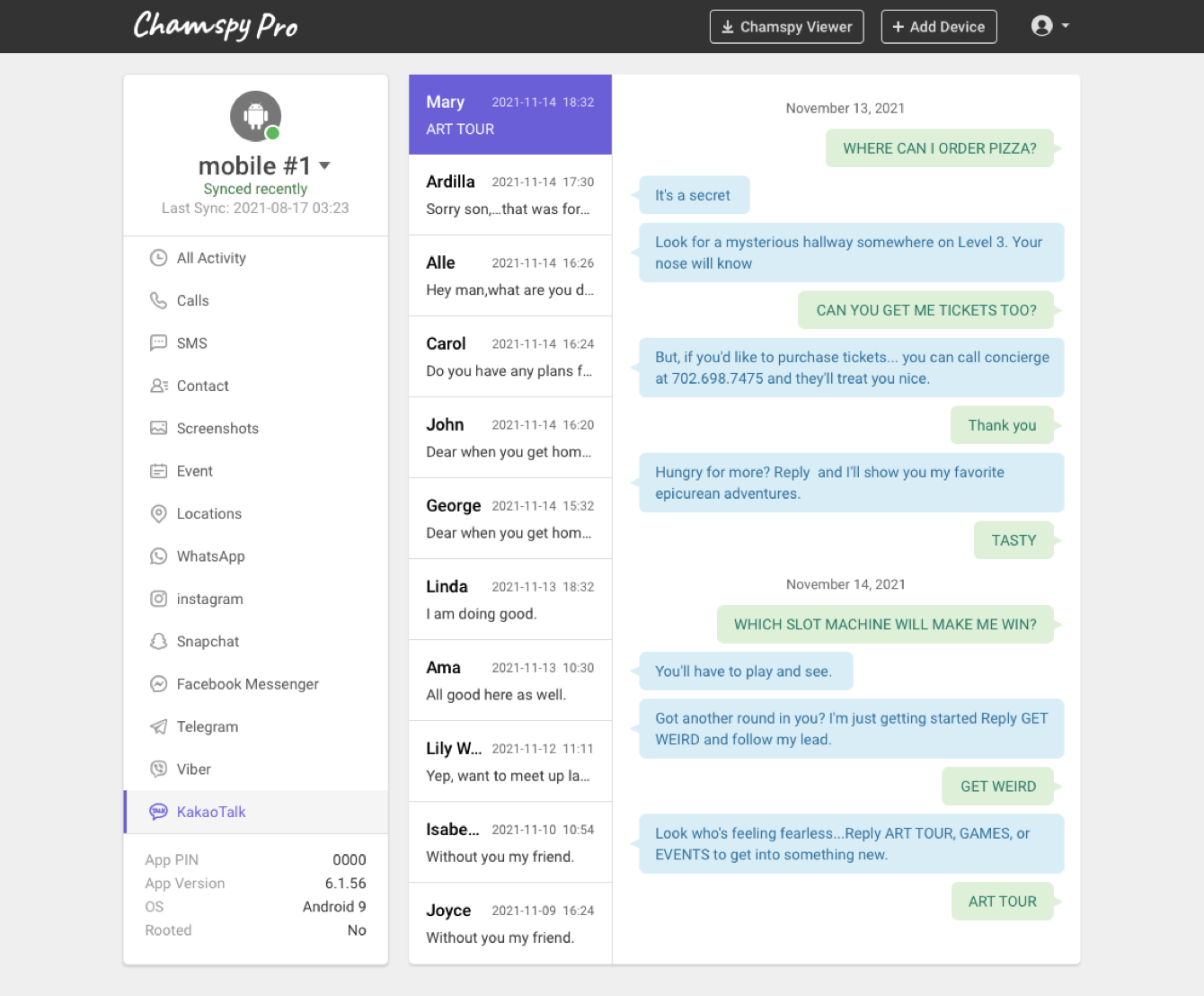 It stays hidden on target device and the target won't be able to find the presence of app. Take the extra mile to ensure your kids, employees or loved ones not expose themselves to cyber threats.
For that to work, it requires one-time installation on Android cell phone which you want to monitor. After then log into your Chamspy web account and go to "Kakao" page. From there, you can monitor all incoming and outgoing messages.
Can I spy Kakao messages on non-rooted device?
Yes, you can spy on all sent and received Kakao messages in non-rooted device. This application doesn't require rooting or jailbreaking.
Can I monitor the deleted messages of the device?
The simple answer is yes, Chamspy Pro providesyou with all the monitored KakaoTalk logs to your online dashboard. You can check it at any time and anywhere.