Kik Spy App - Track All Kik Messages Without Any Hassle
Like many other instant messenger apps, Kik app allows users to exchange information and stay in the loop. It comes with a built-in web browser and different native applications that make it more additive to teenagers. As such, there is a need for parents to keep an eye on kids' online activity and protect them against the possibilities of abusing it. Choose your flexible solution spy app and stop having nightmares about what your loved ones are saying on Kik.
Kik tracker is more powerful than you think
If you want to keep an eye on your kid's cell phone activities, Chamspy Pro is all you need! This Android spy app is a perfect blend of ease of use and functionality and helps create a safer digital environment for your child. Simply look through all Kik messages in stealth mode.
With Kik spy app, you can get access to all Kik conversations with an easy-to-use and minimalist web account. All sent and received messages will be uploaded to your account and you can view the contact details of the sender. Each text sent via Kik takes along with exact date and timestamp.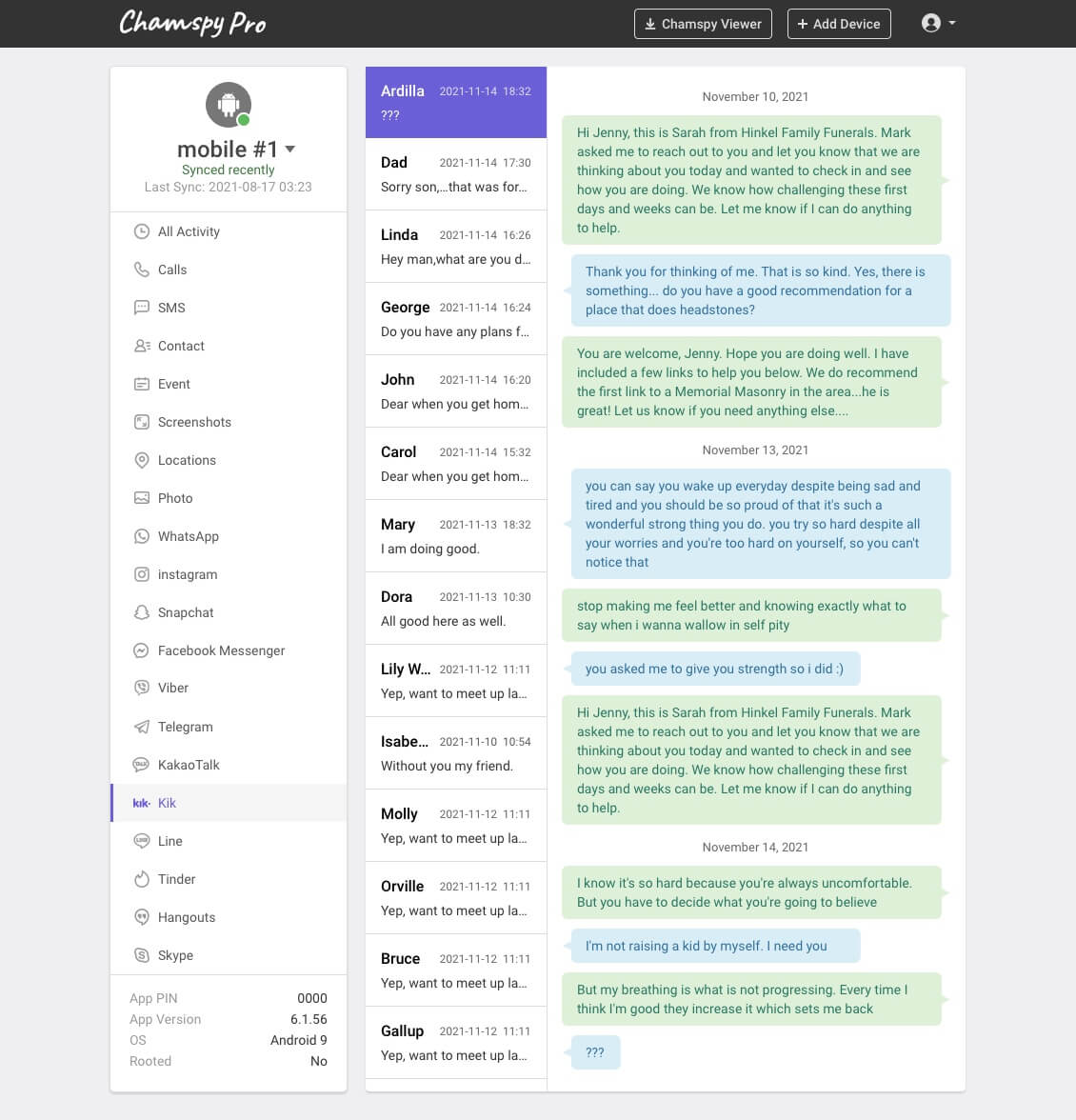 This application also captures the conversation in the Kik messaging app with the screenrecorder feature that does the legwork for you. That includeswhat they typed and the images they sent. You'll be able to see multimedia files before they've disappeared.
As such, you'll know what your child is exchanging on the platform and whom he/she is chatting with. You can make sure your children are not cyberbullied on Kik and they don't keep a close relationship with suspicious people.
Can I see someone's Kik without them knowing?
Yes, you can make use of phone spyware to read someone's Kik messages without their knowledge. Once Chamspy Pro is installed on the target device, you can log into the control panel on your phone to spy on Kik.
What else I can do with Kik monitoring software?
Chamspy Pro is not just a Kik spyware, it protects your kids in all-around way. You'll be able to track GPS location in real-time, read text messages, record phone calls, monitor other messaging apps such as Facebook, Snapchat, WhatsApp and much more.
Can I spy Kik messages if the monitored device is not connected to the internet?
Chamspy Pro can spy on all Kik messages even in an offline phone. However, you will only be able to access those recorded conversations once the target device is connected to the internet.