Line Spy App - Monitor All Line Chats Discreetly
Line Messenger is one of the most popular social chat application within teenagers. Its free messaging, calls and stickers gains lots of fans. However, this growth comes a greater need to know exactly what kind of information is exchanged and how safe it is for those involved. Line spy app for Android allows you to access all activities detected on the target device. It's your call now to protect them or not!
See what's happening online with Chamspy Pro
If you need to protect your youngsters from dangerous online world, such as cyberbullying, sexting or harmful content, there's no better way to that than with Chamspy Pro. This Android spy app comes packed with a variety of features such as monitoring social media, recording phone calls, reading SMS and many more.
To read someone's Line messages, you even do not need a Line account. All it takes is a Line tracker like Chamspy Pro to see what they're saying in the conversations. You don't need to root the target device. Find out the truth with Line tracker for Android:
Read all Line chats
Check sender's name and number
View time and date stamps
Capture screenshots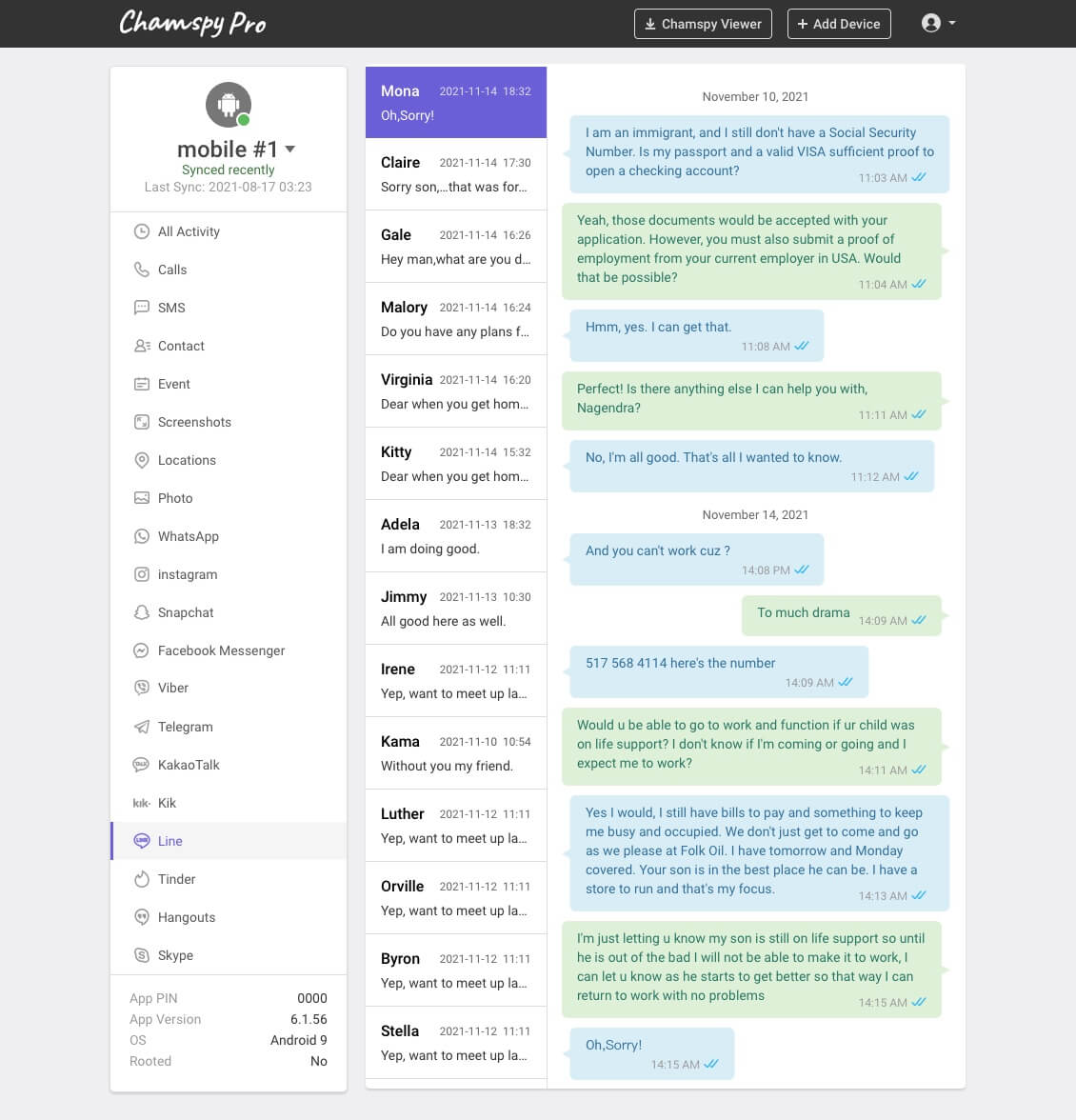 Note that all chats get saved to your online account. It means if the target deletes a thread, you can still view it in the dashboard. This application stays hidden and doesn't impact the normal functioning of the cell phone in any way. Your target will never discover you're spying on their Line activity.
Why choose spy app?
Data security - Line tracker uses end-to-end encryption method to protect your information from being leaked.
Remote control - It requires one-time physical access to target device. Once configured, you will be able to track all Line activity remotely.
Powerful features - This comprehensive spy app can monitor almost everything done on Android or iOS device.
What can you learn from spying on Line?
By spying on Line conversations, parents can protect your child from potential online threats. Bullies, sexual predators, scammers may exploit this platform to target innocent children. You can prevent your child from being targeted by monitoring their Line activity.
Line app also makes workplace communication easier and more effective. If you're an employer who hands out company phones, you can keep an eye on your employees to make sure they're working properly.
Can you recover deleted Line messages?
Yes, Chamspy Pro records the Line messages deleted after the installation of spy app. It cannot recover the messages deleted before the installation.