Photos Monitoring Software - Spy on Cell Phone Pictures
Picture is worth a thousand words. Capturing or sharing photos is entertaining activity for both teens and adults, but it also has tremendous potential for abuse. Teen sexting, bullying and disclosure of trade secret are some common problems nowadays. If you are anxious to know what your kids, employees or someone you cared about are sending private photos, then you'll need to spy on the photos on their phones. By employing phone spy app, you'll get easy access to the phone gallery of target device remotely!
Why do you need photo spy app?
If you are a parents who wants to keep kids safe online, or you are a businessman who wants to know whether your employees are using company-owned device properly, photo spy app is what you need.
Minimize the exposure and harm of porn

By spying on the photos taken or stored on kid's smartphone, parents can stay ahead of possible dangers and keep kid safe. It helps detect suspicious images like nude selfies, porn photos and more. Parents may feel relieved if they are familiar with all the persons and places shown in the photo gallery.
Keep your business safe

The same goes for you to monitor your employee's gallery. Corporate data and information faces a great risk of getting leaked or comprised. By monitoring photos and pictures on target device, business owner can detect potential dangers and avoid unnecessary losses by taking appropriate actions.
How to spy photos on your kid's smartphone with Chamspy Pro?
With specialized monitoring solution, you'll be able to remotely manipulate information on the targeted device. It contains numerous tracking opportunities including call logs, GPS location, messages log, photo, social media spy and many other useful features. These features may be very useful for parents who worry about their kids, and for employers who want to keep business safe from outside threats.
Photo monitoring software like Chamspy Pro helps to detect suspicious pictures saved on target device and allows you to take immediate action. It adds an additional layer of protection for your family and business. Using Chamspy Pro, you are allowed to:
View all pictures taken from camera
See saved pictures in photo gallery
Access time and date stamp for each photo
Download any photo from the targeted device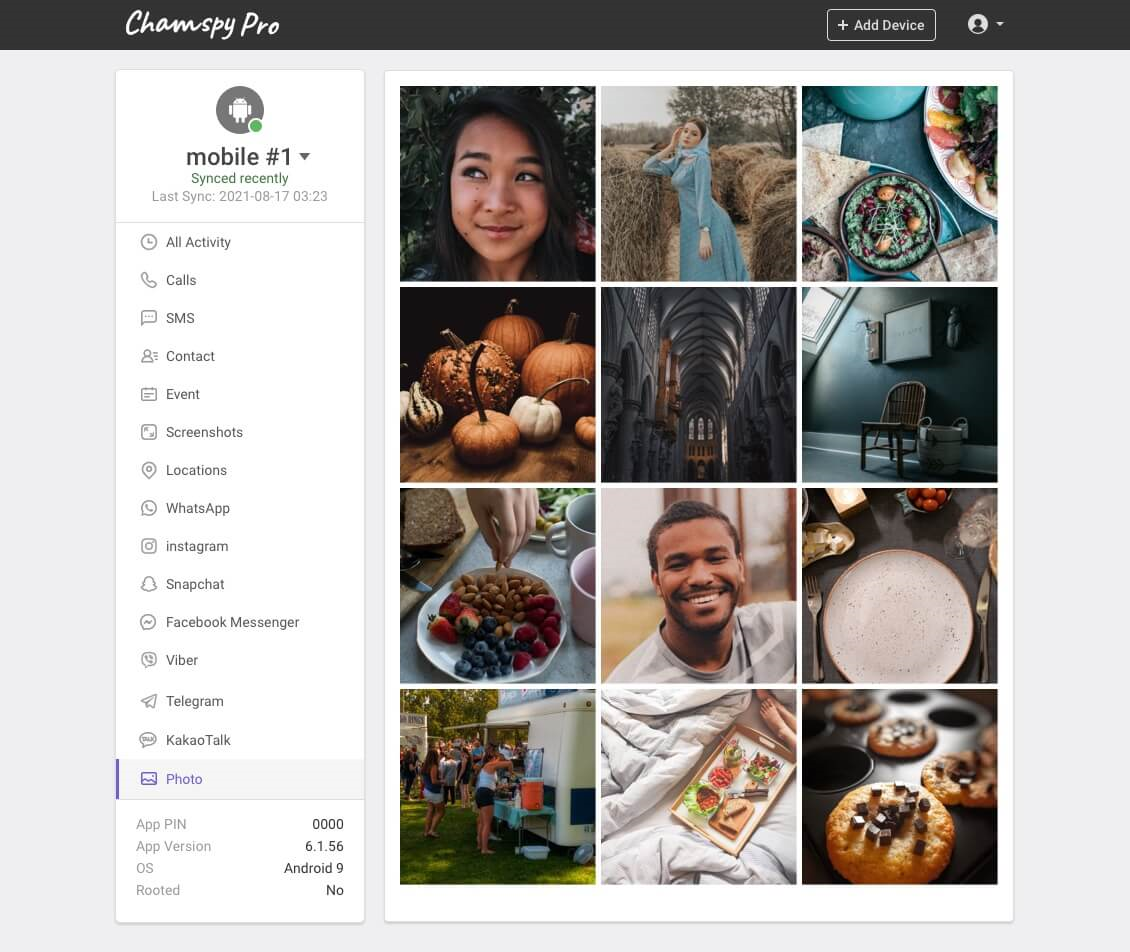 This application virtually uploads all the saved photos of your target device on the web-based dashboard so you can view them at any time. Parents can spy photo gallery online under complete stealth mode, without interfering the phone activities of your kids.
All you need to start is to create your account and install the Android spy app on the target device. Once completed, you will have access to all photos from your control panel. You will see how Chamspy Pro makes your life much easier and safer.
Which devices are compatible with photo gallery spy?
Chamspy Pro enables you to spy on photos stored on all Android devices. There is no need to root the device to use this feature.
Is it possible to retrieve deleted photos on a monitored device?
If the photo is deleted prior to a backup/upload, Chamspy Pro won't be able to recover it. However, all it takes to record a file is a few seconds.
Is it legal to spy on photos of your company-owned phones?
Business owner can monitor the mobile phone of their staff members only if they mention this specific phone spy activity in the job contract, or it is a agreed and negotiated act between you and your employees.