Facebook Spy - Read All Facebook Messenger Chats Remotely
It's no surprising that checking the emails and visiting our Facebook page have become our daily morning routine as having a breakfast. We share our life there, communicate with friends or make the new ones. However, is it safe for your child to explore this platform without supervision? Do you have any idea what your employee is doing on Facebook? Are all active users well protected from scammers, prying eyes or dangerous individuals? Sure not, and that's why you need to keep an eye on someone else's Facebook messages.
Top 5 reasons to spy on Facebook Messenger chats
Facebook can be used to exchange information by billions of people, but it can be a hotbed of cyberbullying, online predators, sexing, infidelity and time wasting. There are some reasons to spy on Facebook messages:
Children are in danger of coming into contact with someone who isn't who they claim to be.
Teens learn illicit habits like drug use and early sex.
Employees might be slack off during work hours; even worse, some of them share confidential information with rivals, putting a company at a loss.
Partner can send illicit messages to another man or woman.
People who spend too much time in front of a screen chatting on social media apps like Facebook face the danger of being socially isolated. This could certainly hinder their development.
As not everyone is sending innocent and friendly chats, it's advisable to spy on Facebook Messenger and look through people behind contacts. A Facebook Messenger tracker will come in handy.
Get a Facebook Messenger spy app - Chamspy Pro
Facebook spy app like Chamspy Pro can be your helper in any life situation. You'll be able to closely track the activities of children, teens, employees and loved ones on this popular social network. It helps handle many personal and business tasks. It comes with useful features:
Monitor all sent and received messages
Access deleted messages
View the date and time of each chat
Look through people behind contacts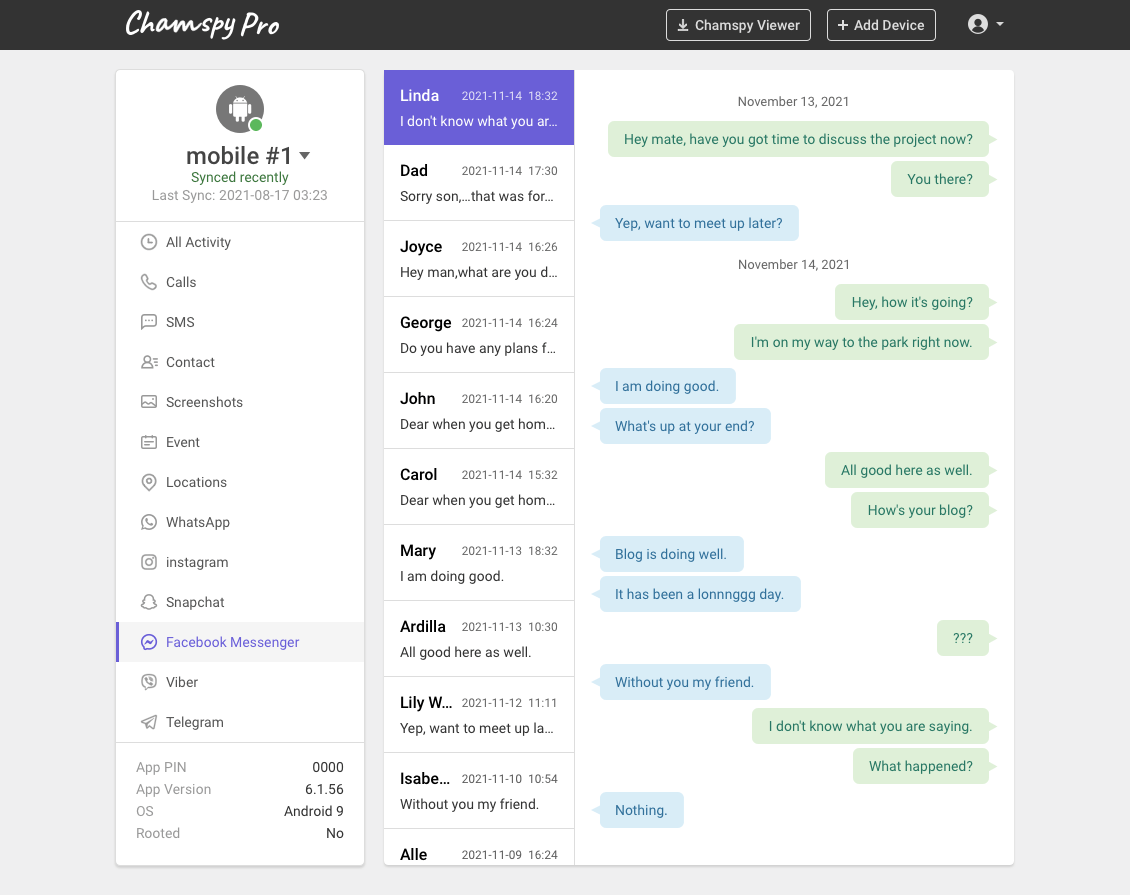 All this and other information from social network chats will be uploaded to your control panel. You'll know if your child is engaging in inappropriate chats online and your employees are killing their time.
This powerful tool has the inbuilt screen recording feature. It lets you visually see what they've been saying by snapping a pic every time there's a change on the screen. Everything sent and received in the chat is captured and sent to your account.
How to monitor Facebook Messenger chat using Chamspy Pro?
To spy on Facebook Messenger chat, you must follow these steps:
Sign up for your online account; enter your email and password;
Install the app on target cell phone;
Then monitor Facebook activity in your account.
There is no need to set up any additional settings. Unlike other Android spy app, you don't have to root the Android device to use Chamspy Pro's Facebook monitoring feature.
Is spy app undetectable?
Yes, top-notch spy apps use high-tech algorithm that copy data from target device without leaving any trace. Chamspy Pro runs in the background and it does not use up traceable amounts of phone resources like data, battery, or memory space.
Is there another way to check Facebook messages?
If you search online and review the options carefully, you may find some other solutions such as resetting password, hacking accounts, keylogger and even phishing. However, you may end up wasting time and leaking your personal information. The most reliable way is to utilize a Facebook Messenger tracker like Chamspy Pro. It brings together the best of all the other methods.