Instagram Viewer - Track Instagram Story of Your Loved Ones
Compared with other social network platforms, Instagram tends to be more about sharing the moment and gaining followers, not connecting with friends and letting them peek into your life. It's no wonder that most people spend a significant amount of their time on Instagram. As such, some parents have to turned to Instagram tracker and find out what their kids are posting on Instagram. Just forget about creating a fake Instagram account and type any IG username you want to get started.
Introduce Instagram activity tracker
There are plenty of third-party websites or tools that purport to allow you to view someone's Instagram stories anonymously, without the need to log in. Most of them aren't secure and some don't even work. If you're looking for a reliable tool to view someone's Instagram stories or posts anonymously and easily, Instagram tracker or viewer like Chamspy Pro comes in handy. It is the perfect blend of ease of use and performance, so you don't have to equip with professional knowledge to utilize it.
This powerful tool allows you to:
View the profiles, following and followers of people you are interested in
Watch Instagram stories
Get insight into Instagram posts and videos
Stay anonymous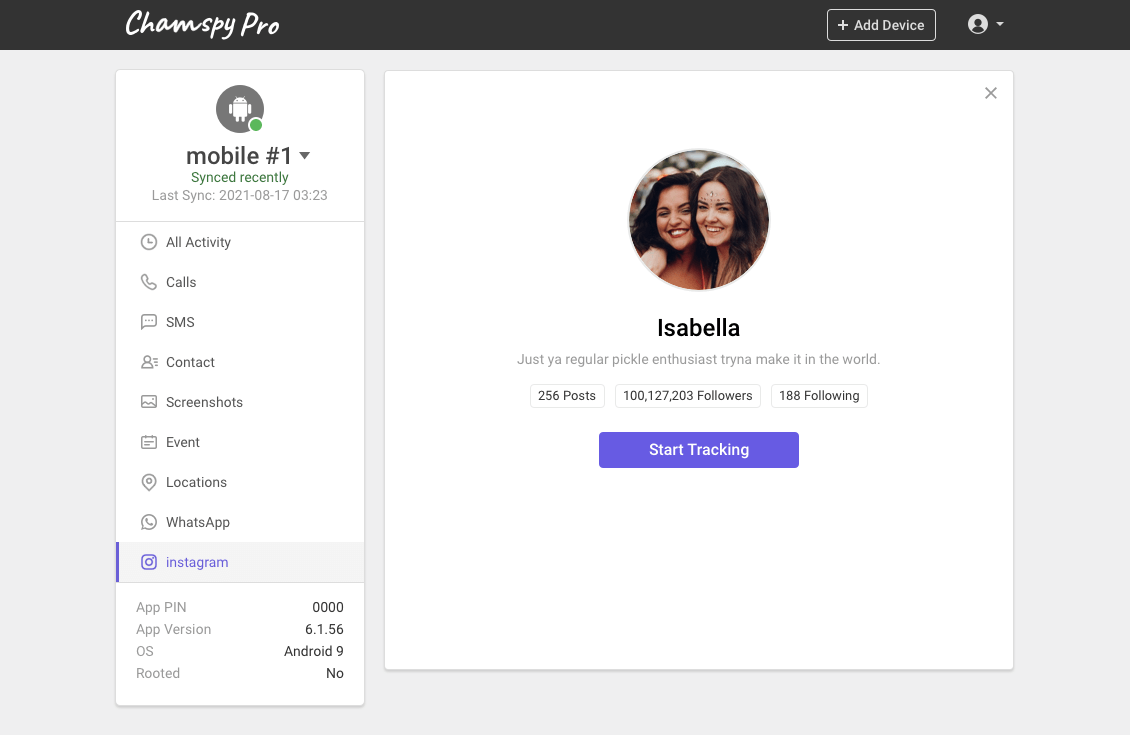 With the assistance of this feature, you can successfully view a public account's stories without notifying the user of a view. Simply log into your Chamspy Pro account, type his/her Instagram username in search field and select his/her profile from the dropdown list. Once done, you can enjoy the content you wanted to see.
Why you need to choose this Instagram viewer?
Chamspy Pro is a powerful tool for anonymous reading of public Instagram stories or posts. The combination of ease of use and performance makes it an ideal choice. Embrace the benefits the Instagram tracker offers you:
No account needed

You do not need a personal Instagram profile. This feature enables you to view stories or posts without logging in or installing Instagram application.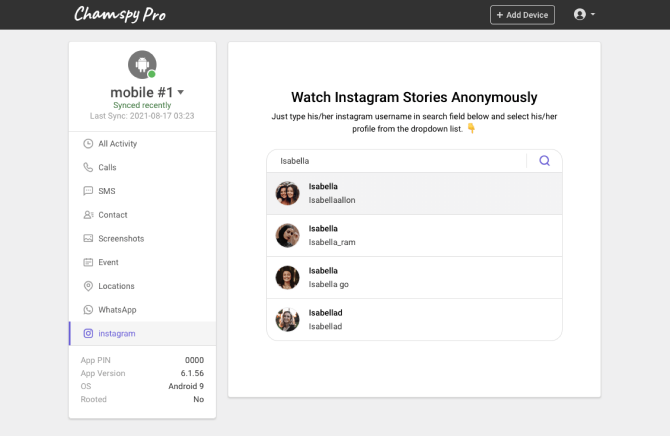 Stay anonymous

There is no need to create a fake account of you want to see someone's content privately. You can stay completely anonymous and the owner of the profile will never know it's you.

No physical access

Some features require physical access to target device to work properly. However, Instagram tracker feature is an exception and you don't even need to install Chamspy Pro on tracked device to use this feature.
Is there any limit on the number of Instagram tracking?
No, you can enjoy unlimited Instagram tracking without signing up. This service is easy to use and unlimited.
What can you get from Instagram activity tracker?
With Instagram tracker, parents can keep an eye on what your child is posting on social media app, you can use this feature without it seeming like you're inspecting every single thing that they post online. You also can see if you've been blocked from someone's pages or stories.
Other than that, if you don't have an Instagram account, you can't view people's stories or posts. Using Chamspy Pro Instagram viewer will let you see what people are posting without having to create an account.