Tinder Tracker - Monitor Tinder Activity on Android
With over 50 million users, Tinder is definitely one of the most popular dating apps. It is a location-based social search mobile app that facilitate communication between mutually interested users with the help of their Facebook accounts. However, here comes with some pros as well. Your child is likely to chat with suspicious people without your knowledge or your partner could be sending illicit message to another man or woman. That's why you should keep a watchful eye on what your kids or loved ones are doing online and identify potential dangers. This is where our Tinder spy app comes in handy!
Is Tinder safe for kids?
We honestly doubt so. Like any other messaging apps, Tinder is a perfect ground for offenders to find their victims. It costs nothing to register under the false name and provide fake profile. Moreover, kids might be addicted to Tinder especially when they are spending more time swiping left and right than actually dating.
How to spy on Tinder messages remotely?
With Tinder monitoring software, you'll be able to track your kids or partner's Tinder account on your phone at anytime you want. Chamspy pro is such a professional monitoring solution specializing in tracking messengers such as Tinder for smartphone users. Once installed, you can get full access to target Tinder activity, including messages and conversations.
Read all Tinder messages
View the exact time and date
Check contact details
See all Tinder matches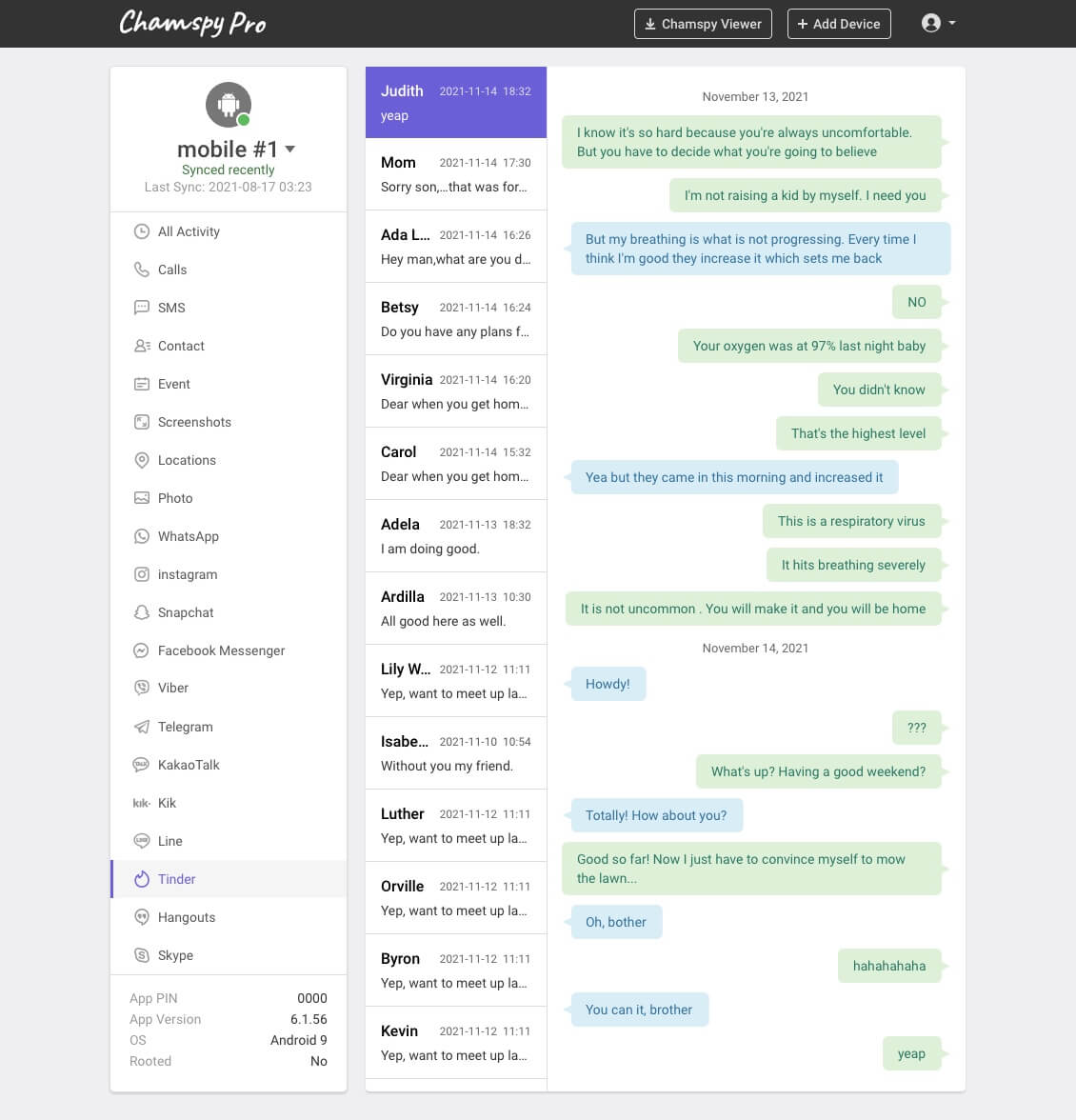 Tinder spy app allows you to always stay in the know about what is going on your loved one's digital life. You can prevent kids from being involved in unwilling communications, sexting and cyberbullying, and avoid your partner cheating on you. Don't miss a chance to protect your child or family!
3 Simple steps to start tracking Tinder.
Tinder spy app makes it possible to remotely spy on Tinder message. It captures and uploads the details to your secure online dashboard where you can access anytime and anywhere. Here's the guide for how to spy on Tinder app:
Register

Create your account with email address and password

Install & Setup

Install Chamspy pro on target Android device following the instructions

Monitor

Go to your account and start your journey to parental control!
Chamspy Pro Tinder spy app puts your mind at ease.
Protect your kids

If your child is using Tinder, they could be targeted by predators, scammers or malicious people, or exposed to harmful content. By spying on Tinder app, parents have the ability to always be aware of the conversations your children are having and who they are talking to. It's rather as a tool to prevent children from engaging in risky behavior, being cyberbullied or getting caught up with wrong people online.

Benefits for couples

If you are worried that your partner may cheat on you, you can use Tinder tracking app to monitor his/her Tinder in time. You'll be able to discover the improper information immediately and stop the conversation in time.
Can I recover deleted Tinder messages?
Chamspy Tinder spy app tracks every message or text that has been sent or received. Even if the person deletes a messages, you still can get access to it in your account.