Cell phone GPS tracker - Keep track of your loved ones for safety
Kids and teens often tend to lie about their whereabouts when asked and same goes for your employees. Chamspy Pro solution lets you track someone's location easily and you can know exactly where they have been at any given time or throughout the day.
How to track a cell phone using GPS?
If you want to know how to track a cell phone using GPS, you're on the right place.
With this leading mobile phone GPS tracking solution, you can track the GPS coordinates with just a tap and see their location on a map. It's private, safe and risk-free.
You just need to install the app on target device first, which should not take more than 5 minutes. Afterward, you can log into your web-based dashboard and look for the location option in the menu to your left. Click on it to get started with the tracking.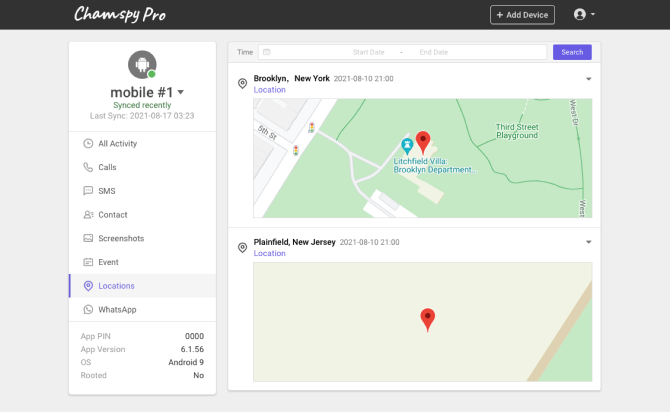 The location window is a detailed log of the target device's movements. The gathered information is based on WiFi and GPS data uploaded by the target device. You can see the device's location pinned on an interactive map. In the location log below the map, you get to view details like address, longitude & latitude, timestamp, accuracy.
Can I track cell phone location in real time using Chamspy Pro?
Chamspy Pro can track the exact location of target device in real time if there is a strong internet connection. It should be noted that a new location will only be registered with Chamspy Pro if there is a displacement on the monitored device. If the device isn't moving, Chamspy Pro will only register a single location stamp.
Do I need to root the target device?
No, you don't need to. The location tracking app works with stock versions of Android. Our engineers have labored hard to make this happen.
Why do you need a cell phone GPS tracker?
GPS location tracking gives you clues as to their recent behavior. Depending on your relationship with the person, the information you dig up can be used in various ways. Chamspy location tracker is popular with parents, business owners, and people in relationships - all looking to keep an eye the people close to them.
Parents can give kids the freedom to travel around city, but also make sure they're not crossing over to the wrong side of the tracks. If you're a business owner, location tracking tells you a lot about your employees. If someone takes an off day claiming to be sick but their location points to a nearby beach, you know they lied to you. This solution also makes for an excellent missing phone finder.
Is it legal to use a phone location tracker?
Yes, as long as your underage kids are the focus of tracking. Child safety is parents' first priority. A GPS phone tracker app can help you keep an eye on them, so you can give them freedom to explore the neighborhood without having to worry.