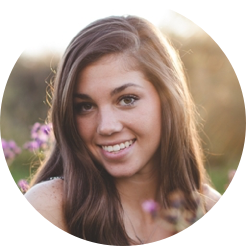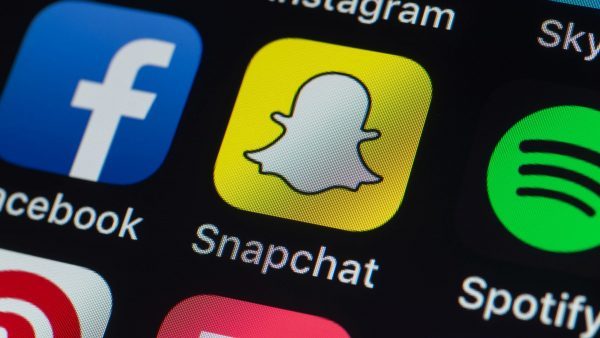 Social media has connected us to an open community, where we can exchange messages instantly with people from all over the world. Different social media boast various features. People in mounting numbers are becoming fans of Snapchat, which is known for utter privacy and safety for messaging. Snapchat has attracted millions of users for its Snaps feature—The app will eliminate the messages you have read within seconds. However, is this exactly the case? Are people free from the scare of online dangers of social media platforms? Let's have an overview of the situation and find the solutions to help eliminate the hidden dangers on social media platforms.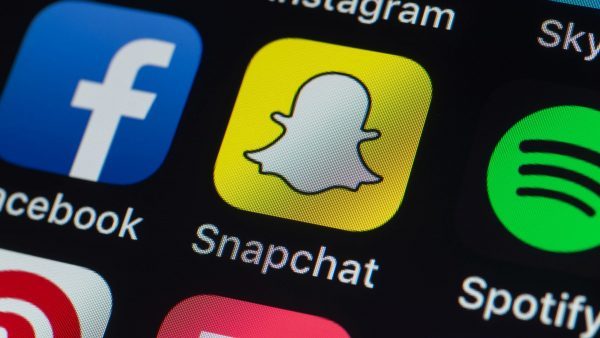 Is it safe on Snapchat?
Snapchat is a rising messaging app that allows users to exchange pictures and videos (called snaps). This might be something new. However, what makes it sound novel is that the snaps can disappear after they are viewed by the recipient. The novel function is advertised as a " new type of camera", which can meet people's desire for excitement and curiosity. However, greater threats are hidden under the attractive feature. An increasing number of cases are reported on Snapchat, mainly including:
Inappropriate photos and videos: Believe it or not, the user base of Snapchat comprise a large number of tweens and teens. There is a reason why they are addicted to sending messages on Snapchat. They are immersed in the excitement of sending controversial videos and pictures which can be wiped out after being read. Yes, we are talking about sexually explicit content. Users will lay down their guard for the feature. However, some ill-purposed people will take screenshots immediately and blackmail teens.
Cyberbullying. Online cyberbullying is one of the biggest risks when you are surfing online, in particular for kids. Kids are susceptible to online cyberbullying. Kids are embarrassed and afraid of talking about this to parents or friends. Therefore, the common consequence might be that they make compromises to bullying and suffer from great mental torture.
Predators. The Internet is swarming with people who are up to no good. Snapchat is no exception. As the messages will be deleted automatically, you might not save any proof like a screenshot.
Therefore, risks go hand in hand with novelty. There is no absolute online security in cyberspace.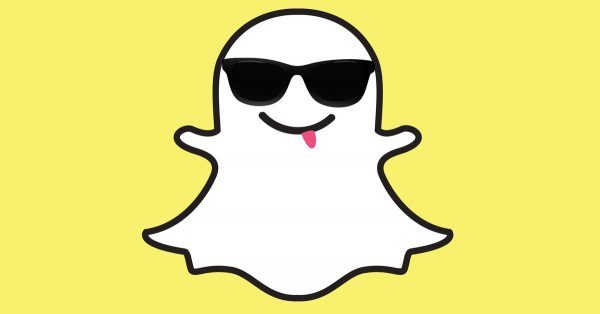 How to view others' Snapchat?
On no account should we ignore the above dangers on Snapchat, in particular in terms of our loved ones. As a Chinese saying goes:" Know the enemy and know yourself, and you can fight a hundred battles with no danger of defeat". Therefore, learning about what's happening on one's Snapchat can be conducive to the protection on your loved ones. You can definitely make full use of the built-in features on Snapchat to view their conversations on the platform if you can reach their cell phones and unlock them:
Enter Snapchat on the target phone
Click the avatar which locates at the top left of the screen
Click the Settings icon at the top right
Sopt "My Data" and tap on it
If asked, log in
Tap on "Submit Request"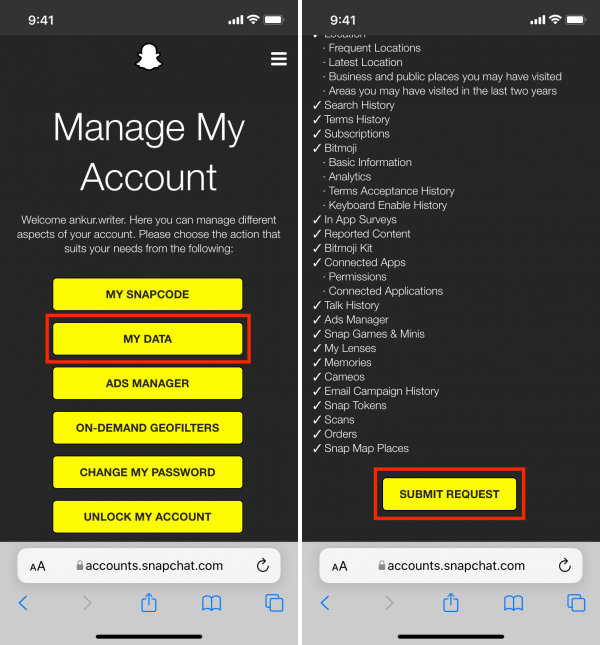 Something you need to pay attention to when you are using this way to keep a tab on one's Snapchat messages:
You need to get access to one's cell phone
Spare possibly much effort to know about his password of cell phone and Snapchat
No access to deleted messages on one's account
How to spy on Snapchat conversations without access to one's cell phone?
Hence, it might be obvious that you can't have a full picture of one's Snapchat if you adopt the above way. That's why you need a Snapchat spy app. Getting a trustworthy Snapchat spy app can open up an entry for you to view all Snapchat messages without touching the target phone. If you are looking for a professional expert in spying on Snapchat messages, you are bound to have a look at Chamspy Pro. It can make your mind at ease with the innovative features:
Have close look at all text messages on Snapchat
Record the timestamp of each talk
Have a screenshot without letting others know
Work in a discreet way under stealth mode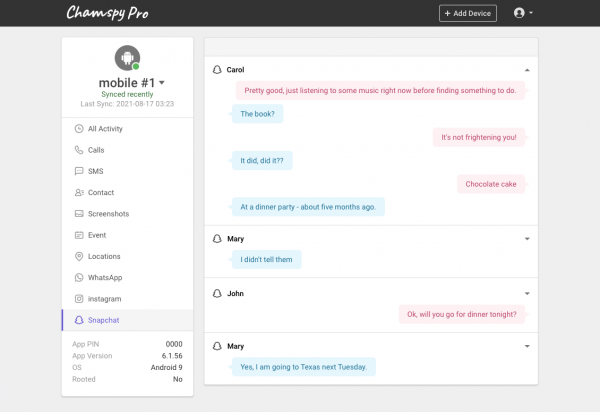 With Chamspy Pro, you will have no more struggle about how to view the messages that have disappeared, for the Snapchat tracker will make all messages including the deleted ones available to you on your dashboard. In other words, you will grasp all messages on one's mobile device without much effort but with a click on your screen. Three steps for you to spy on Snapchat messages without one's acknowledgment:
Create your account with your email and be a member of Chamspy Pro
Download and install the app on your target phone (You will no longer need to get access to the target phone after that)
Get ready for your monitoring
The Snapchat tracker delivers its promise to view all messages on Snapchat without rooting on a cell phone. Therefore, it is a safe and effortless way for you to spy on Snapchat messages.
Why should you choose Chamspy Pro?
People in mounting numbers are choosing an android tracking app for parental monitoring or other legal purposes. Spy on Snapchat can be one of the features of these monitoring apps. When you are searching for Snapchat spy apps online, you will come across dazzling options on the web page. However, you should remember that many bogus trackers are disguise masters, which lure you to download with some links on the web page. As a result, you might have malware and can't get what you want from the apps. What's more, these malicious apps might leak your information and put your online security at stake. Instead of wasting time and money, it's better to choose a reliable partner-Chamspy pro. You can know more highlights of this Snapchat tracker:
 A true android tracking app on different social media platforms including Snapchat, Instagram, Whatsapp, Facebook, Hangouts, Line, Viber, etc
A recorder of call logs including incoming and outgoing time of phone calls
Look in the to-do-list and activities on the calendar
Know the frequent contacts of your loved ones
Have screenshots without letting others know as well as find your spouse's location
 Work in a stealth mode and no one will know about your monitoring activities
A trial period for you before you have an official subscription
Professional assistance is at any time online for you
Workable on both Android and iOS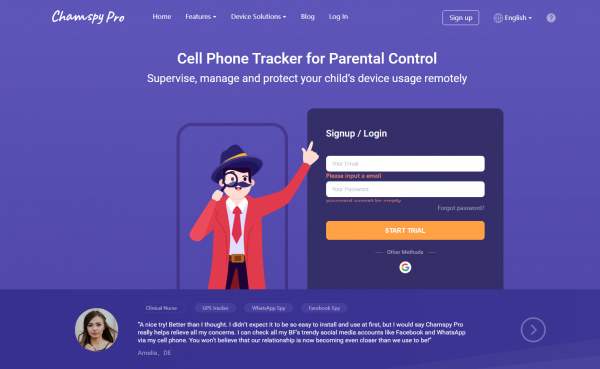 This powerful solution can surely be a great help when you need to spy on Snapchat or others platforms.
Wrapped up:
The goal of the post is to help you get the most effective way to track Snapchat messages, and we believe you will have your own decision after reading the passage. If you still have more aspects to know more about, just leave your comments below!