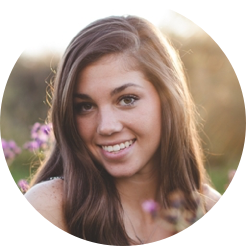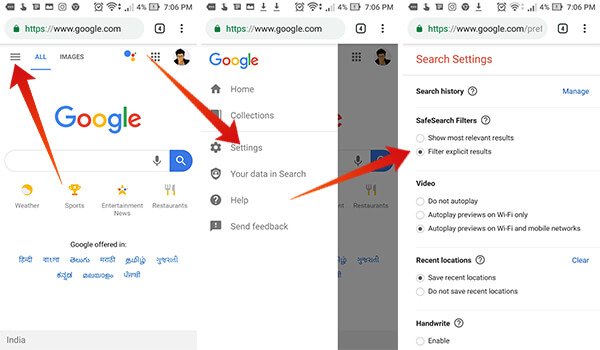 The popularization of the Internet has changed our life beyond recognition. Gone are days when we grasp news from newspaper. Instead, we are inclined to grasp the up-to-date information from the Internet. That's also the case of modern kids—An overwhelming number of kids are spending endless hours on digital devices for browsing new updated information, getting access to educational resources, communicating with friends. However, pros and cons go hand in hand. Adult content might be everywhere in cyber world, which might have an immense effect on the way your children's brains are formed. Therefore, it can't be more imperative that you should steer children towards proper and healthy online habits.
Thanks to modern tools, we can definitively help our kids defend against online porn via blocking adult content. In this write-up, we will offer several workable ways to you!
Way 1: Turn on Google SafeSearch
This is the most common and easy-to-use way for you to block porn websites for you loved kids. It is easy for you to enable Google SafeSearch, which can filter inappropriate content for your kids. Here is how you can activate Google SafeSearch:
Make sure that your kids are using the Google as his/her search engine
Activate Google SafeSearch (Note: It might be a bit different for you to carry out this step on app and web page. On mobile devices, you should first open the Google app. Tap on the gear icon, navigate and choose Search "Setting", and then you should click on" Filter explicit results". While on desktops or laptops, you should head to www.google.com and tap "Setting" in the bottom-right corner. Choose "Search Setting" and turn on SafeSearch.)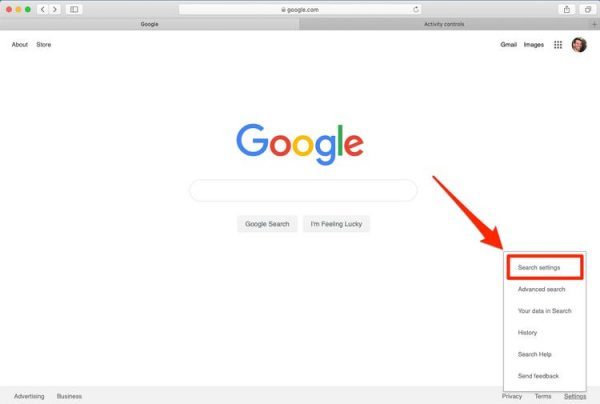 3.  Have a check on all devices on a regular basis to ensure that the SafeSearch isn't turned off by your kids
Way 2:Set screen time on your Apple products (iPad and iPhone)
This is a built-in service for Apple products, from which you can check all the screen activities of your kids. Screen time helps you monitor the time your kids have spent on the apps and web pages. With this feature, you can also block unsuitable content for your kids. Here are the steps for you to enable the function (The following steps should be conducted on your kids' Apple devices)
Head to "Setting", then stroll down and click into "Screen Time"
Choose" Content & Privacy Restriction" and toggle it on
Go through the apps and determine what you will allow your kids to get access to and what you disallow they to approach.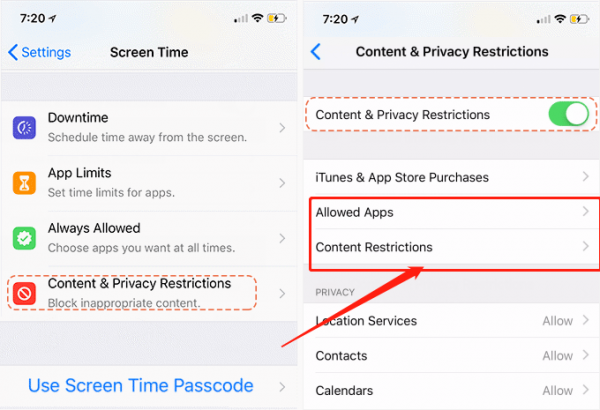 You can also choose to set an extra passcode which your kids don't know or won't guess. With only three steps can you block the improper websites for your kids in this way:
Enter "Setting" >Screen Time
Tap "Screen Time Passcode"
Type in a four-digit code that your kids doesn't know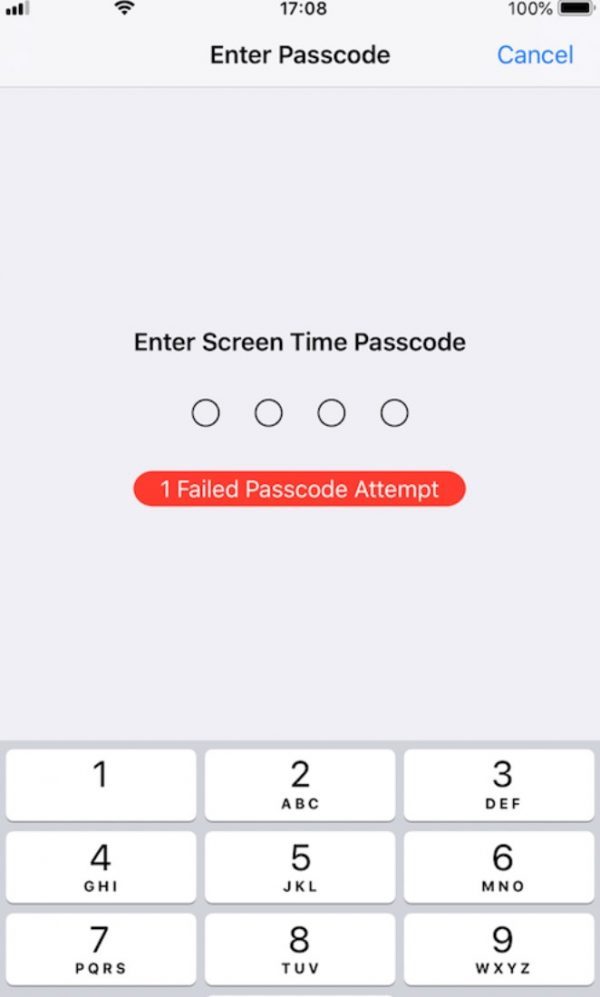 Apple also developed a new section with a feature of Family Sharing, which allows you to monitor the online activities and block online porn for you children. You can activate the new feature by following the below steps:
Open "Setting" >Screen time
Tap on Family Sharing
Add a family member and follow the instruction to set up and enable the feature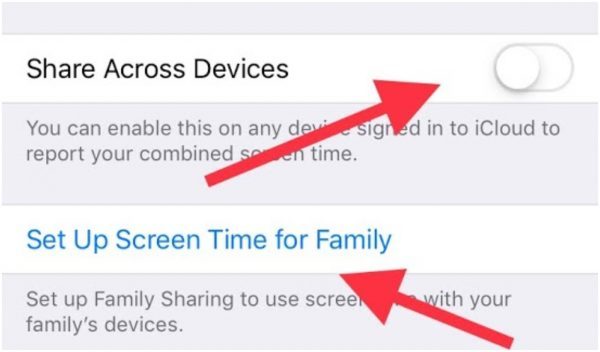 Once you have completed the setup, you will able to shield the online porn on your kids' device remotely and handily.
 Way 3:Take advantage of DNS
To connect to the Internet, every device needs to use DNS (Domain Name System). It is also one of the workable approaches to shielding porn from your kids' digital life. You can filter the mature content by replacing the original DNS with another DNS:
Go on the "Setting" of the mobile device
Click into Wi-Fi
Tab to configure DNS
Choose "Manual" 
Add the DNS server with 185.228.168.168 or you can also replace your DNS (Note: IP address 185.228.168.168 will help to block all porn sites and inappropriate content and ensure the search engine in a safe mode)
Way 4:Seek help from ISP
ISP is short for Internet Service Provider, who will receive and monitor your Internet request every time you browse a website. The Internet we use in our home is provider by our ISP. Therefore, there is no doubt that they will have some tools to control and filter web browser. You can just contact your ISP and use the control app recommended by them to block porn web pages.
 Way 5: Install parental control apps
The popularity of the smartphones and Internet has stimulated the emergence of parental control softwares for its rounded protection to kids' digital life. Other than blocking porn websites, parental control apps can help you supervise your kids' online activities in a comprehensive way. Some distinguished features of parental control apps can be included:
Real-time location tracking to ensure the offline security of your kids
Spy on social media messages to monitor your kids' online chatting
Block the improper websites and content to safeguard your kids from potential online dangers
Manage the incoming and outgoing phone calls to help spot and block the unwanted calls as well as the sms text messages
Limit the screen time to protect your kids' eyesight and do good to their further development
Parental control softwares will update the real-time online activities on your control panel, which enables to you have a full mastery of your kids' online behaviors as well as ensure their online safety. Only three steps can you guard your kids by blocking online porn with these powerful tools:
Create your account and sign in with your account
Install the app on the target phone via conforming the instructions
Let the parental control app do the rest work for you and you can view all the updates on your control panel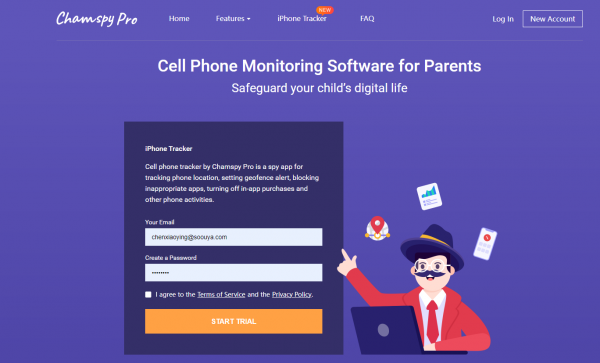 Conclusion:
Online porn might be everywhere in Internet world. Therefore, we should choose the best app for parental control app to help us block the online porn for our kids. Nevertheless, the above apps can't replace the role of telling our kids the significance of dangers of online porn. In addition, it is time for each of you to be aware of the significance of steering kids towards proper online habits. After all, it is the online habits that have more lasting effects on kids' further development!